Record Collector No. 100, December 1987, page 54:
HUEY LEWIS AND THE NEWS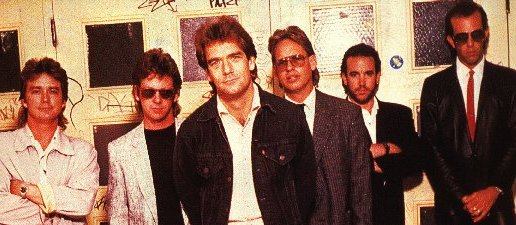 Chris Hayes, Johnny Colla, Huey Lewis, Bill Gibson, Sean Hopper, Mario Cipollina
Michael Heatley looks at the ex-Clover Vocalist who became one of the biggest-selling American rockers of the 80s, thanks to hits like "The Power Of Love" and "Heart Of Rock'n'Roll".
If Huey Lewis has a secret of success, it is his unpretentiousness. Love it or loathe it, his easygoing adult-oriented rock has won him a large worldwide following - and, having waited some twelve years for his first chart record in any country, it's hard to say he doesn't deserve it.
Given this background, it's surprising to find that Huey Lewis is not, in fact Huey Lewis at all. He was born Hugh Anthony Cregg III in 1951, adopting his present name at the suggestion of a girlfriend's father. He explains: "First it was Hughie Louie because it rhymed, then he just called me Louie. Then Louis. Then Huey Louis. Later when I went to England in the mid Seventies and everybody was like Rat Scabies, I just thought, What the hell?"
Born in New York but raised in California, Lewis had learned his trade at the harmonica while busking round Europe in the late Sixties. On his return, he passed through exotically-named West Coast outfits Slippery Elm and the Hereford Heartstringers (* Sean was a member of the latter, not Huey) before meeting up in the Early Seventies with some friends who'd formed a band of their own.
A four-piece country-rock outfit, Clover could lay claim to being one of the longest surviving San Francisco bands, with the exception of the Grateful Dead. Schoolfriends Alex Call (guitar, vocals), John McFee (guitar) and Mitch Howie (drums) had recuited bassist John Ciambotti in 1967 when they wisely changed their name from the Tiny Hearing Aid Company.
The band signed to the Fantasy label in 1969, but the lack of promotion of their two albums, "Clover" (1970, U.K. Liberty LBS 83340) and "Fourty Niner" (1971, U.K. Liberty LBS 83487), led them to believe that they were being used as a tax loss for that label's biggest earners, Creedence Clearwater Revival. The second album appeared in Britain for a matter of weeks, but its rapid disappearance from the racks was due to a change of distributor for the label rather than any skullduggery. (The band later remixed the best Fantasy tracks for the retrospective "Chronicle", released in Febuary 1979, U.K. Fantasy FT 550.)
The albums - so rare in Britain that they're currently valued at over 10 pound apiece - were easy-going country-rock affairs, with most of the compositions by Alex Call. An eclectic streak led to the inclusion of Junior Walker's "Roadrunner" on the first, poorly produced album - and the arrival of Lewis and keyboardist Sean Hopper around the beginning of 1972 saw them pursue this R&B vein as their recording contract expired. "We were getting more into dance music because we were forced into the clubs," said Lewis, whose contributions at that point were more instrumental than vocal. During this time, attempts were being made to lure nimblefingered guitarist McFee away, but despite sessioning for Van Morrison, Boz Scaggs, Steve Miller and others, he stayed put. One founder member who didn't was Mitch Howie, who was eventually replaced in 1975 by Michael Schreiner, alias Micky Shine.
Clover continued to play the bar circuit, the occasional foray into film soundtracks ("Payday" in 1973 being one) helping to pay the rent. When Jake Riviera (soon to be Elvis Costello's manager but then tour boss for Dr Fellgood) encountered Clover in their element, he had no doubt that they'd go down a storm in England. His judgement was backed by Nick Lowe, late of Clover's nearest counterparts, Brinsley Schwartz. Having shared Clover's U.K. label, he and his former band were conversant with Clover's back catalogue: indeed his future wife Carlene Carter covered "Mr. Moon", while Ian Gomm cut a great version of "Love Is Gone" (once a staple of the Brinsleys' own set) in 1983 on his third solo album, "Village Voice".
Riviera's partner Dave Robinson signed the band to Phonogram's Vertigo label, only to see the new wave (which Riviera and Robinson's Stiff label ironically helped foster) tear the heart out of Clover's bid to build British success from pub-rock roots.
One of the band's money-making sidelines was a 1977 session backing Costello on his first album, "My Aim Is True" (Stiff SEEZ 3). For Lewis, it offered not work but a holiday. "Sure I could have hung around, played a little harmonica, sang some backing vocals," he said, "but I'd been on the road for nine years - I just needed a break." At the height of Lewis's fame, Costello wryly regretted the fact! Another less well-known session for the band was "Please Get My Name Right", a 1977 album by model-singer Twiggy (Mercury 9 102 601).
Local
The Phonogram signing pre-empted a single recorded in the States and set for release on a local label, PAC. The A-side, "Summer's Here", remained unreleased, while "Leaving Is (The Best Thing I Can Do)" was later recut as an album track. The first scheduled U.K. single was a ballad, "Rainin' In My Heart", but Clover's first single under their own name was a Nick Lowe-produced single in late 1976. "Chicken Funk" was a mock dance-craze number featuring Lewis on lead vocal. Originally intended as a demo and cut within days of arriving in Britain, it worked better as part of the stage set.

Their first album provided the highlights of six years' live material, with just one song - the autobiographical "Streets Of London" (not the Ralph McTell classic) - added since their August arrival. Released early in the year of punk 1977, "Unavailable" credited Hugh Creeg on its label but 'Hughie' Lewis on ist appallingly designed sleeve which, like the album, was conceived and executed in a two-week rush. As with label-mate Graham Parker, Nick Lowe had given way to Robert Lange as producer, while the single's B-side, "Show Me Your Love", reappeared in a newly recorded version. Standout track was Call's "I Lie Awake (And Dream Of You)", a song that had also appeared in the Twiggy LP. The album was released by Mercury in the U.S. in a superior sleeve under the name "Clover" despite the possible confusion with the band's first Fantasy product.

A second album, "Love On The Wire", emerged later in the year with Crawler drummer and fellow American Tony Braunagel replacing the departed Shine, but was equally unsuccessful. Incessant touring with the likes of Thin Lizzy and Lynyrd Skynyrd failed to expose them to a receptive audience - as Lewis recalls, "We considered it a good night if we didn't get booed off stage before the end of the set." At this stage Huey was coming more to the fore, both vocally and as a harmonica player: on tracks like "Still Alive", which he co-wrote, the overall effect was far closer to the J. Geils Band than Hank Williams.

A new drummer was found in Kevin Wells, formerly with disco group 5000 Volts - but when John McFee finally took the money and joined the Doobie Brothers in May 1979, the decision was made to split. A 1986 retrospective of the Vertigo Material shows that Clover deserved better than obscurity: subtitled "An American Band In London, The Best Of Clover" - despite being grievously mistitled - is a worthy souvenir for latecoming Lewis fans, eventhough his vocal outings are limited.

Lewis returned to Mill Valley, set up a natural yogurt business and returned to the clubs he knew so well. A Monday night jam session at Uncle Charlie's in Marin County (later used as a venue for the "Power Of Love" video) encouraged him to take centre stage: "With Clover I mostly just played harp and only sang once in a while," he recalls. When free studio time was offered, a disco spoof on the "Exodus" movie theme, entitled "Exodisco", attracted the ears of his former U.K. label. Lewis's air tickets over were paid for by Nick Lowe in exchange for the idea for a song titled "What Looks Best On You", which appeared on Dave Edmunds' "Tracks On Wax" LP (Swansong SSK 59407). While in London at Lowe's expense, he further repaid the debt by playing harmonica on "Born Fighter" on the "Labour Of Lust" LP (Radar RAD 21) and on Dave Edmunds' version of Clover's "Bad Is Bad" (from the original Phonogram demos) on the Welshman's "Repeat When Necessary" album (Swansong SSK 59409).

Lewis's new band, the News was formed out of the nucleus of the Monday Night Band. Sly Stone guitarist/sax player Johnny Colla and Ronnie Montrose bassist Mario Cipollina (brother of Quicksilver Messengers Service's John) had played with SVT drummer Bill Gibson in Soundhole, backing Van Morisson; lead guitarist Chris Hayes had a jazz background, while the faithful Sean Hopper needed no introduction. Phonogram showed the initial interest, but it was another British label, Chrysalis, which picked the band up on a long-term deal. However, the lack of press or public interest in the band's self-titled debut, released in 1980, must have raised a few doubts.

Every song was recorded in two or three takes, the whole record taking just three weeks. But producer Bill Schnee signally failed to turn the songs into potential singles. The vocal arrangements were faltering and the brass arrangements - a strong feature of the band's later work - all but non-existent. Some of these tracks have since been aired as single B-sides, but invariably these later releases have been remixed radically.

The album was deemed so uncommercial that a U.K. single was not issued until 1982 when its successor, "Picture This", was slated for release. In a flashback to the Clover days, "Do You Believe In Love" was written by their ex-producer Robert John Lange. This time Lewis took the production reins himself, though songwriting chores were spread between six of his originals and contributions from Lange, Wet Willie's Michael Duke, Phil Lynott and a cover of a Fifties hit by the Hollywood Flames ("Buzz Buzz Buzz").

The Lynott song was released as lead track on an EP which appeared in a newspaper-style sleeve and then as a picture disc. Both are now very collectable indeed, despite all the material being available on album. "Tattoo (Giving It All Up For Love)" was bizzarely titled: the word "Tattoo" failed to appear in the lyrics at all, and the song appears on the album sleeve in subtitle form only. Lynott's encouragement during mid-Seventies tours had been crucial to Lewis - and when he won a BPI award in 1986, Huey paid verbal tribute to the late lamented star. He'd made a cameo recording appearance on Lizzy's "Live And Dangerous" album, playing harmonica on "Baby Drives Me Crazy", and contributed to Lynott's 1980 "Solo In Soho" set.
Video
"Do You Believe In Love" struck gold in the States, where it made No. 7, thanks to a typically tongue in cheek video, and the follow-up - "Hope You Love Me Like You Say You Do" - No. 36. A significant factor in obtaining a hit sound was mixmaster Bob Clearmountain, whose work in the same role with Bruce Springsteen later brought him fame and fortune. But acceptance in Britain was to be a long time coming - and the result was bewildering as each U.S. hit was released, then re-released in the search for that elusive first hit.

The big break in Britain and the States came with "Sports", an album where almost every track cried out for singles consideration. One track was familiar - a slower, bluesier version of "Bad Is Bad" than Dave Edmunds' rendition nearly five years before. This was now correctly credited to Clover, rather than Lewis alone, even if John McFee had metamorphosed into John Mc Vie! but one track in particular sounded even more familiar. "I Want A New Drug (Called Love)" was remarkably reminiscent of "Pop Muzik", M's U.K. No. 2 of 1979 ... yet ironically it was Lewis who turned to the courts for satisfaction when Ray Parker's near-identical "Ghostbusters" film theme hit the top of the charts. Here, the connection was somewhat easier to prove since the San Francisco Chronicle claimed the song had been played 'under the titles of the work print' of the film, and its makers had 'asked Parker could he come up with something along those lines.' The case was settled out of the court, with Lewis quipping that the song must have been good to be a hit twice!

Only two songs on "Sports" had been intended as singles: "Heart And Soul", a Chinn-Chapman number first cut by Exile, and "If This Is It", a band composition. As it was, the record spawned rather more hits than anticipated. No fewer than five tracks made the U.S. Top 20, but only one of these, "If This Is It", made the U.K. Top 40, and that at No. 39.

As "Sports" finally reached No. 23 in the U.K. chart - an amazing two years after its release - Chrysalis's remorseless recycling led to "The Heart Of Rock'n'Roll" being touted as 'new' in April 1986, when it had first seen release as a single in the U.K. twenty-two months earlier! Several of the U.K. 12'' singles combined three of the U.S. hits - effectively offering a 'best of "Sports"' selection - but a more interesting and collectable element came in the shape of live bonus tracks like a cover of Curtis Mayfield's "It's All Right", "New Drug", "Buzz Buzz Buzz" and "Hope You Love Me Like You Say You Do". The latter two appeared on a 7'' 33rpm four-tracker headed by "Heart And Soul". The 12'' A-sides frequently extended remixes by the likes of John 'Jellybean' Benitez and even, for "Hip To Be Square", Shep Pettibone - two surprisingly trendy names to be associated with the likes of Lewis!

A measure of how far the band had come was their involvement in the U.S.A. For Africa project. An unreleased live version of a track from their first album, "Trouble In Paradise", recorded in San Francisco on 21st Febuary 1985, appeared on the album. But the band opted out of Live Aid - a brave decision that saw them attract flak from the world's press. Lewis put his view thus: "If rich people really want to help - and I'm one of them at present - they can do so QUIETLY."

The recording artist's perennial nightmare - how to follow up a breakthrough record - became reality for Lewis and his band as three years of recording failed to produce an album. But when Chris Hayes came up with the melody for "Stuck With You", the band's third U.S. chart-topping single, Lewis spun off the words in fifteen minutes - the time it took to drive to rehearsal! The floodgates opened - and the result was "Fore!", punningly titled by golf fanatic Lewis who delivered an album which, if not quite up to "Sports", was still par for the U.S. chart course. It made No. 1 there for one week, exactly as "Sports" had done, while in Britain it reached No. 8. The sporting theme was continued by what must rank as the most collectable Lewis paraphernalia yet - promotional golfballs, tees and a score pencil imprinted with the band's name.

Sales were boosted by the early release of the outstanding "The Power Of Love", adopted as the theme tune of 'Spielberg's hit movie "Back To The Future" (and, coincidentally, the third single of that name to chart in the U.K. in less than twelve months). In the U.K., the single was given a new catalogue number in the recently granted HUEY series ( a fact unrecognised by the Guinness 'British Hit Singles') and responded with a new chart lease of life, rising to No. 9, after a previous best of No. 11.

Officially a double A-side with the veteran "Do You Believe In Love" from the second album, the second release in 12'' form was actually worse value for money than its fourtrack predecessor - but it compensated by adding the band's only other soundtrack contribution, "Back In Time", which had been specially written for the film and was unavailable elsewhere. Lewis's cameo role in the movie provided him with numerous other offers of film work, all of which he turned down.
Buried
"Fore!" kicked off with "Jacob's Ladder", a tilt at TV evangelism penned by Bruce Hornsby. This topped the U.S. singles chart but was mysteriously buried on a B-side here, its subject matter considered less universal then Lewis' s usual themes. Former News support act Hornsby's first album featured three Lewis-produced tracks. "Fore!" itself contained songs from several writers, including former Neil Sedaka lyricist Phil Cody, and Tower of Power, whose horns had added a punch to the News' live and studio work for some while. "Simple As That" became Lewis's first (and so far only) U.K. CD single, or more accurately EP, the five-track 12'' being the basis for the second of Chrysalis's 'CD EP's and thus numbered CDE 2. All the band's albums are now available on CD, with the first two available in mid-price like their LP counterparts.

Lewis's run of hit singles continued in the U.S., but once again faltered in Britain: no fewer than five singles were issued from "Fore!", and only one made the Top 40. For Lewis completists, another live "Trouble In Paradise" emerged on the "Stuck With You" 12'' - some 19 seconds longer than the U.S.A. For Africa take - while a pair of Japanese EPs made collecting 12'' mixes and live tracks even easier ... at a price!

Despite Chrysalis U.K.'s aggressive marketing of his product, Huey Lewis personifies the old-fashioned dues-paying method of getting to the top. He's rubbed shoulders with stars on the U.S.A. For Africa single (even if his line was intended for the absent Prince), yet rates his biggest thrill as rendering an acappella national anthem at the 49ers/Jets American Football game: "It was really nerveracking". He receives coverage in magazines as divers as 'Smash Hits' and 'Kerrang!', and repays his debt to America's musical heritage by handpicking such worthy support acts as Duane Eddy and the Neville Brothers. When asked why he'd succeded where Clover had failed, he said "We've learned how to make records better." In the words of his hit, it's as simple as that.
| | |
| --- | --- |
| © 1996-2015 Clover-Infopage.com | |