Newsline II Volume5 Number3 (Issue#19, page 20), Fall, 1999: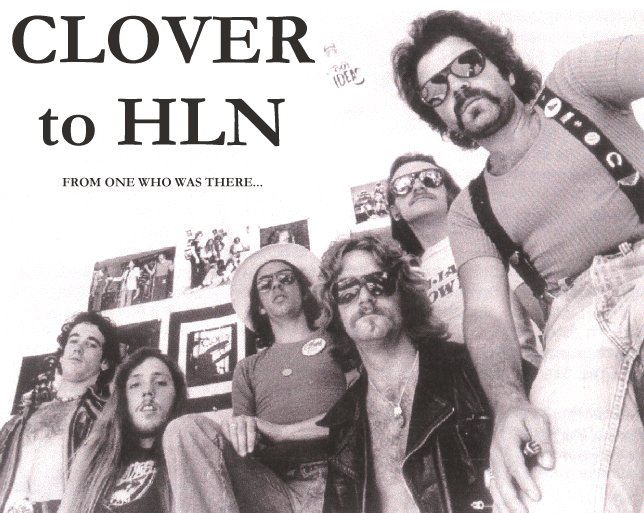 Clover 1976: Sean Hopper, John McFee, Alex Call, Huey Louis, Micky Shine, John Ciambotti (1)
By Ralph Merzlak
We're exited to have this written by photographer Ralph Merzlak. Ralph, present from "the beginning," was actually able to watch our fave band (HLN) as they came up, documenting much by photograph! Thanks to Ralph Merzlak for this story from other than the band's perspective. (Newline II)
In 1975 my wife and 1 yr. old child and I arrived in Marin County, CA. The reason we left Florida was the humidity combined with the lack of scenery, due to the fact of my new obsession - photography!
Not knowing anyone in Marin, we decided to attend a bar in San Rafael called, "The Disco Wreck." This bar was typical of a younger crowd neighborhood hang-out.
As a band unknown at the time set up their equipment, we paid them little attention. One of the lead-singers announced something over his mike and a song began.
Towards the end of the song, everyone was mesmerized with this group. The song was "Love Love", (I still have the Nick Lowe produced version on a cassette, mailed to me a year later as an out-take in England by my buddie, Micky Shine.)
While talking to the band on their break, drummer "Shine" and I became instant friends. He was from New York and I grew up in Florida with a lot of his fellow New Yorkers.
The other lead singer, a guy by the name of "Hugh Cregg," chimed in and it felt that the three of us had a lot in common.
The day after meeting the band, I somehow knew this would become a great group. I could see one of the members stood out as an entertainer with stage presence I had never seen before. Huey was he, so I decided to photograph him from day one, to record the shots I had missed by not living in the Bay Area during the 60's.

The first one is of my 1yr. old son "Kam," being held by Huey. In order to do so, I seeked out his day job... co-owner of "Natural Food's Express," in San Rafael.

I arrived with Kam and exclaimed to Huey... "Huey how about holding my son?! The shot will be valuable as you become a star!"

This photo was later used by Kam in his 8th grade yearbook during the "Sports" era. No student at his school believed it was the now famous "HUEY LEWIS!" The photo was for the "baby pics" section of his yearbook.

After knowing Micky Shine & Huey for 2 days, Shine asked me if by any chance the band could use the back half of our sign shop to write and rehearse their music in an attempt to snag a record deal with someone.


Huey Louis, 1976 (2)
It's hard to relate how the idea appealed to me. My darkroom was in that same space. For 6 months I printed photos 4 nights a week while Clover provided the music.
While it seems there is a good and bad side of almost everything, the next part and till now the most important unknown thing happened.
The guys wrote and self-produced some really great music in my shop. The problem was, Alex Call was the other lead-singer, and the pressure of appearing live in front of signing agents flying in from England seemed too great. Especially because it was to happen in an empty warehouse in Ignacio.
As the plane was in flight from England, Micky Shine popped into our sign shop, (in Corte Madera,) and was as sure as he could be... Alex was too nervous for the up-coming audition.
Micky had a brain-storm... He knew the plane's arrival time in S.F. and figured a one hour drive to Ignacio. He then called local radio station KTIM and requested anyone that was off work or could get out of work for an hour or so. Please come to this warehouse to attend a free concert, by the up-coming, now locally known band, "Clover."
About 100 people dropped what they were doing and headed for the free gig. The result was the Mercury/Phonogram agents watched Clover along with the screaming crowd, and Alex didn't even notice them.
A record deal was signed and Clover was off to England. As the band departed S.F. Airport, I realized the only friends we had known just left, and we were without friends in Marin.
Huey & Micky wrote many letters and Shine mailed us out-take tapes.
At this point, punk was sweeping England and Clover was a Country/Rock band. Back to America for Clover and time to break-up.
Micky Shine landed the job as drummer for "Tommy Tutone," and Huey sold fruit juice and yogurt.

Norton Buffalo & Huey Louis on any given night (3)
However, Huey knew just what to do. He talked the owners of a bar near Fairfax to have a segment called, "Monday Night Live," and invited many musicians to sit-in on Monday nights to jam with others.

Huey was mostly the lead-singer, and under his watchful eye, he was interviewing for his next band.

After many musicians jammed, Huey was ready to assemble his band.

Huey came to me one day and requested a logo for his "Monday Night Live" band. Me, being a graphic's guy, I hand-drew the M.N.L.B. logo.

One week later, t-shirts appeared with my logo on them, only one dozen were made. When I asked Huey for the one that was promised to me, he took of the one he was wearing and handed it to me. To this day, Huey does not have one... I still retain mine, and I have seen Johnny Colla wearing one of those black shirts at a gig or two.
From that point on, I worked my camera and art pens for the new band, "Huey Lewis and the American Express." I photographed every move of the new band and met them one night at Uncle Charlie's in Corte Madera with my artwork of the new American Express logo, (almost complete) when they sat me down and advised me, (their manager) had just convinced them that "The News" was a much better name. Oh well, at least I had all those photographs, which now grace their 10th Anniversary Tour Book, and many in the "Time Flies" package.
In fact, the one on the "Time Flies" CD itself is one of my favorites that I have taken of Huey.
I never charged the bands for the work that I did. Money was tight for those guys, and I was doing real well with my graphics thing.
At this time I would like you to know what kind of guy Hugh Cregg is. For the past 20 years Huey has made sure we had "All Access" Backstage Passes to all his gigs we can attend, and purchased many tickets to these concerts. He also provides me with Backstage Passes for the people that pay to have their name on our '55 Chevy Pro-Street car. Huey also posed for photos and drove our car at his Reno Hilton '98 Concert, for our feature article in "Super Chevy Magazine," (April, '99 issue.)
I feel "more than not" would have forgotten the Merzlak's after becoming World famous. But not Huey. And for this I would like to say in print; Thanks Huey. You're one of a kind!
Your buddie, Ralph Merzlak
All photos by Ralph Merzlak, Printed by Permission:
(1) Ralph writes: "This photo was taken in our sign shop, 'Earth Sign Shop & Darkroom,' Corte Madera." (Note: Clover photo wall in background.) "This photo was used upon arrival in England in most publications... Later, the band opted for one with London & subways in background."
(2)Ralph writes: "To me this shot exemplifies the fun the guys had while coming up! It was taken at Marin Recorders, (a not so "big time" recording studio) near Huey's "Natural Foods Express" business in San Rafael."
(3)Huey and Norton Buffalo jamin' at "Uncle Charlie's," Corte Madera. Ralph writes: Norton signed this photo at a T.V. video program we had set up for our local T.V. (cable) TSPN."
Special thanks goes to Debbie Parry (Newline II) and Ralph Merzlak for adding this article to the Clover Infopage!
| | |
| --- | --- |
| © 1996-2015 Clover-Infopage.com | |