Hard Road Magazine, Volume 1 Number 1, July 20, 1970: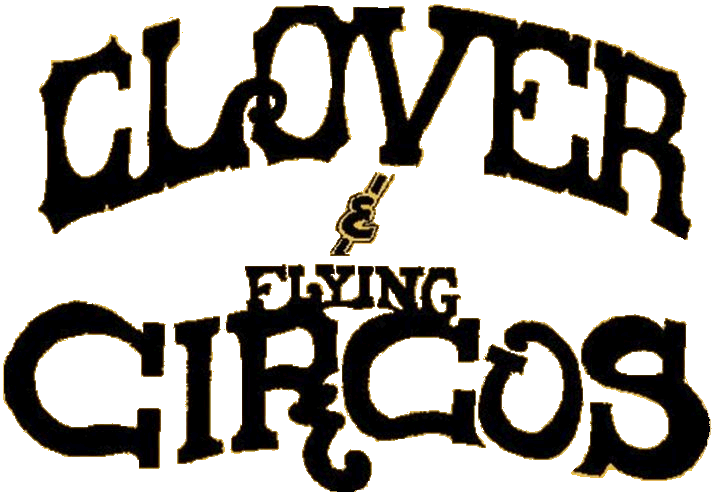 By Michael Goldberg
"Uh, you shouldn't of changed these strings." - Alex
"My fa..ah..theer"
"I thought it sounded pretty good, 'cept that my guitar doesn't sound like it should" - Alex
"Well we've got this different engineer. All of a sudden our other one was busy ... and this has put me in such a fucked mood ... this other cat who knows our sound perfectly ... gets a real good sound, this cat ... if this doesn't sound good we're just going to quit tonight ... we're not going to pay for the time or nothing ... so we're giving this dude a chance anyway" - Johnny
Question - "What do you think of playing to white walls instead of an audience?"
"It's hard to say ... It's different ... it's totally different ... (probably completely out of tune. - Johnny)
I like it ... (well I am going to try it anyway. - Alex)
recording is really fun ... with or without an audience, audience gigs are ..." - Johnny
"Sir, what do you think of the NEW SPREAD?" - Mitch
"The NUDE SPREAD?" - Johnny
"Give me a 'C' ... mmm" - Alex
"C chord"
"Are they anywhere near ready? ... two basic tracks to record today unless there's going to be vocals and other bullshit." - Johnny
Question - "Are you ever going to try recording live?"
"If we manage to stick around in the business long enough to." - Johnny
"He's just joking." - Mitch
"Live at Brown's Hall"
"That might not be a bad album."
"That would be fantastic with all the sweat and everything." - Johnny
"Are we ready?"
"Let me just hear the bass." - engineer
"Thank-you very much - let me hear the guitar." - engineer
"Thank-you very much - now how about the steel guitar?" - engineer
"Put your hands up?" - Mitch
Question - "Do you have a name for the album yet?"
"Call it 'Free Clover' and put on the album, " ... proceeds go to the Clover Reefer-of-the-month Club."
"... Now the drums." - engineer
"Put something on the snare."
"How about my wallet?"
"Fine."
"Yea that sounds right."
(Alex sings) "Miner ... sofiner, 49er good life, gonna try So finer ... 49er ... fine ... tonight ... it's the good life ...
"What kind of coffee does it dispense?" - Mitch
"Really bad." - Alex
"Vocals please sing ... umm star spangled banner or something." - engineer
"Oh say can you see, by dawns early ..." - Alex
"Whose birthday is it?"
"Mine"
"Happy Birthday to you ... Happy birthday to youoo ou ou ..." - Alex
"So fine ... So fine ... 49er" - Alex
Question - "How much of the album has been recorded so far?"
"About nine cuts, nine basic tracks, twelve tracks will be on the album." - Johnny
"Forty-niner ...miner ...finer ...finer ...49er ...finer ...so fine ...good life ...it's mine ...fine ...so fine ...it's a good life ...it's mine ...so fine ...it's a good life ...it's mine ...so fine ...49 ...so fine ...fine ...mine ...good life ...it's mine" - Alex
Question - "What kind of girls do you like?"
"Wons wit long hair and big fat legs!!!!" - Mitch
Question - "What time during the middle of the night do you like to get up and read a good exciting mystery story?"
"About four in the morning" - Mitch
"Miner ...so finer ...49 ... your mine ...mine ...good life ...mine ...it's right ...in the moonlight ...it's light ...so miner ...so fine ...your mine ...tonight ...it's right ...in the moonlight ...it's right ... it's right 49er ...49er ...it's right ...tonight ...49er ...tonight."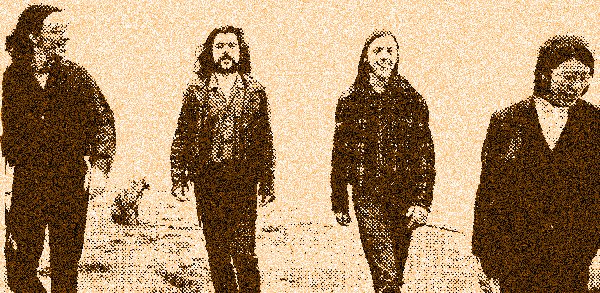 Clover: Alex Call, Johnny Ciambotti, John McFee, Mitch Howie
Beginnings
Clover began down the road apiece from Muir beach. It started in the beginnings of 1967 when Alex Call, vocalist and rythm guitar player, and Mitch Howie, (close friends since childhood) decided to form a band with John McFee, lead and pedal steel guitar player, and Johnny Ciambotti, bass player and vocalist.
Alex, Mitch and John had been in a band together and when they met Johnny Ciambotti, they all dug each others playing and decided to form Clover (the name incidently was discovered in the dictionary.)
Johnny Ciambotti is from L.A. and played in a blue grass band called the Valley Boys. He was in a band called The Outfit when he met the rest of Clover. He says that he has been influenced by the bass player of the Staple Singers, Phil Upchurch. Johnny has a distinctive style in his playing. His bass runs flow through the songs holding them together and pushing the song onward.
Alex Call is a Mill Vallian. He was born here and has lived here most of his life aside from four years he spent at college in Arizona. He has played banjo as well as bass and rythm. His singing is perfect for Clover's country-rock songs. It has a certain tone to it that sounds hard and gutty and sounds fantastic. Musically he likes the band and has been influenced by blue grass and country musicians.
Mitch Howie has also lived in Mill Valley for most of his life. He has played in various bands with Alex before forming Clover. He is a very good drummer and his drumming fits well in the context of Clover's music.
John McFee is from L.A. and played in a whole lot of bands in Orange county and around there. He is possibly the best musician in the group. His pedal steel playing would be hard to match by anyone and the country licks just keep flowing out of his telecastor.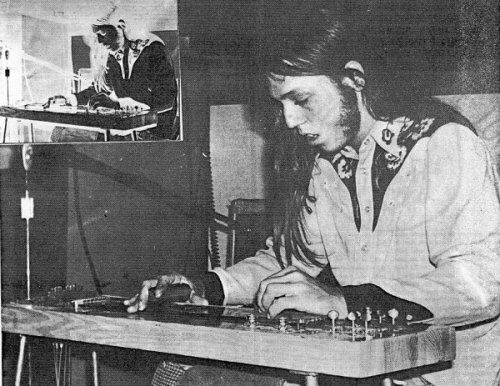 John McFee
Clover has been playing mostly in Marin but has played many gigs in San Francisco, San Diego, Lodi, and Houston, Texas. Lodi was their worst gig. "There were thousands of drunks, hostile idiots. We played "Sunshine of your Love" for 10 minutes, each of us in a different key. I started in Bb and ended in F. They didn't even notice." - Alex Call.
Clover had several offers for record contracts but didn't feel right about any of them until Fantasy came along. Columbia offered to buy the contract from Fantasy but they didn't dig that.
Their releations with Fantasy are good. They have complete freedom to record whatever they want.
Their first album for Fantasy left them highly unsatisfied. They didn't have a board to work with and had to use some old Sony pre-amps for the mixing. The new album is coming along very well. Eight basic tracks are down so far. Fantasy is going to promote this album, and the tapes of it sound great.
They are using a 16 track recorder for this album which allows them to do things like record the drums on five separate tracks and then mix it down to just the sound they like. They are being produced by Ed Bogas, who played piano on the last album, he likes the music and knows just what type of sound Clover wants.
VOILA!


Flying Circus: Bill Hybert, Andre Pessis, Steve Bonucelli, John Haapala, Bob McFee
Beginnings
The origins of Circus are mysterious and hidden. Little is known about the old Flying Circus but some light has been shed on the history of today's Flying Circus.
The Flying Circus formed 2-1/2 years ago. At that time Kevin Haapala was playing lead, Steve Granger played rhythm, John Haapala played bass, Steve Bonuccelli on drums and a vocalist.
Andre had heard them and they were pretty good but the vocalist wasn't so hot so when they said they were looking for one he told them he would try it if they couldn't find anyone else. He tried a gig and they all dug it so he joined.
Andre Pessis, vocalist, lived in New York for most of his life. One day he decided he just couldn't dig it at all there so he drove out to California . He describes New York: "Gigantic buildings, all built on rabbit turds. It's a nice place to visit but I wouldn't want to leave my worms there."
He lived around at various places until he joined Circus. Clover was already playing at the Muir Beach Tavern then and Andre moved in with them along with Hap. The two bands were both using much of each others equipment at the time. Andre is now Circus' manager as well as singing.
John Haapala, bass player, is the only member of the band who was in the old Flying Circus. He is a good bass player. Technically he knows his instrument and creatively he comes up with interesting bass lines which flow through the songs.
Bob McFee, lead guitarist, is John McFee's brother. He came out along with his brother from L.A. He played in various bands, the last before Circus, being the Tiny Hearing Aid Company. He is an excellent guitarist. He is more savage than his brother in that he plays jagged biting lines. His guitar, along with the vocals, dominate the songs and when he gets into it the notes just bombard you. His latest acquisition is an old Fender steel guitar which he is teaching himself how to play.
Steve Bonucelli, the drummer, is the driver. He is usually the one who drives the equipment to the gigs in one of the numerous vans that Circus has gone through. He is a skilled drummer and knows what he is doing. He was in a band called the Outfit before he joined Circus. He was one of the first to join the "New" Circus.
Bill Hybert, the rythm guitarist, is the quiet member of the band. He played in a few bands before joining Circus. He plays a Guild guitar and gets beautiful tones from it.
Flying Circus has played Monterey, Tahoe, Eureka, Buffalo, Mill Valley, Brown's Hall, and Muir Beach. They have enjoyed playing at the Tavern and at Brown's Hall the most.
They have had several offers from recording companies but none of these have appealed to them. In a month or two a single is coming out which they recorded themselves at Walford's two track studio. They didn't dig the recording situation and hope to do a real recording trip sometime in the near future.
They have hundreds of influences. Fats Domino, the Drifters, Taj Mahal, Buck Owens, Clover, Sly and the Family Stone, and many others.
At least 70% of the songs they play are original and they keep coming up with more all the time.
At present they have just completed a week on the road and a week of vacation. Their next gig is in Mill Valley on July 18 and 19.
The line was forming outside Brown's Hall. Tonight was the Clover-Flying Circus dance, the dance all the Clover-Circus fans of Mill Valley, Sausalito, and Muir Beach had been waiting for. A night to see Clover and Circus in the place they play best in. Tonight was the night.

The stream of people flowed like water, in one direction only, inward. As the hall filled, Circus tuned up and prepared. "Pony Rider," hard driving, ROCK and ROLL; the people whose dancing feet had been stored on the shelf all month had dusted them off. The hall looked like the Avalon used to, back in the old days. The days of the first dance with the Charlatans and bands that weren't as good or well known as Clover or Circus.

And Circus is into the next tune, "Loosen Up" and that's what everyone is doing. The smoke and heat is hardly noticed as the crowd moves with the music.

Flash bulbs occasionally go off, lighting up the band but they don't mind, the music seems to get better and better, Mc Fees country licks and rock and roll riffs keep on coming. Andres vocals sound clearer and more distinct, the drums fit in perfectly ... the band is together tonight and the audience is with them.

As fans attempt to dispell the heat and smoke, most of the audience sings along with the songs. It's a party and everyone is a friend.

"I'm gonna tell Aunt Mary about Uncle John,
say he's been too busy but he had a lot of fun.
Now baby, oh yea baby, oh baby, gonna have some fun tonight."
Little Richard
Alex Call, leaping into the air, white shoes flashing, rounded glasses gleaming, flying into the opening song, "Long Tall Sally." His hand swings down across his guitar as he sings the tune, but not like the Beatles version nor Little Richards, Clover plays its own version, country picking mixed with rock and roll.
"Thank you, this is a number that Mitch wrote, 'Love Is Gone.'" - Alex
Mitch, concentrating on sending out a steady beat that forms a basis for the other members to build upon, John, playing complex bass patterns that flow through each song giving the special thread that holds the songs together. Alex guitar giving the depth needed in the songs and John McFee's pedal steel and electric guitar, Country sounds twisted and given a new feeling, filling in and adding to each song. Together, Clover is a remarkable band. The crowd digs it. The dancing hasn't stopped and more and more people keep comin' in ... Clover's into a slow tune now, "Okie From Musgogie." Everyone singing along with the putdown of themselves.
"... like them hippies in Marin County do. We don't smoke marijuana in ..."
Clover's last set is over but the dance isn't.
"We are going to get all the boys from both bands up here now and we are going to jam. Hey Andre get up here." - Alex
Alex singing with Andre, Kevin "the Kid" Haapala on guitar along with Bob McFee. Johnny on bass, Steve on drums. "My heart keeps skippin' a beat, oh skippin' a beat, oh, higher and higher, higher and higher."
Andre and Alex singing before the members of both bands ... the audience watching is floating, dancing in the air ... dancing out the door as the dance ends...
"Come back next month for the next one ..."
"Right on"
***
| | |
| --- | --- |
| © 1996-2015 Clover-Infopage.com | |