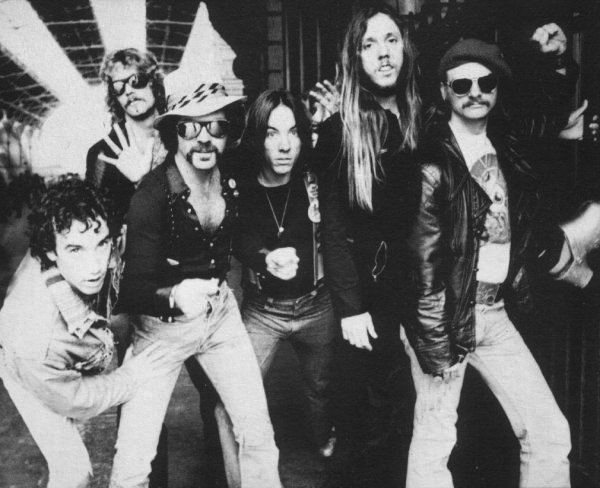 Clover have been, and remain, one of the most popular bands in the environs of San Francisco over a period of almost ten years. They came through the west coast boom relatively unscathed, but with enough bad experiences to have broken lesser bands.
Founder members of Clover are the legendary steel guitarist John McFee and Alex Call. The pair have been playing together since they were 15 year-old Los Angeles schoolboys. With a drummer called Mitch they formed a group - The Tiny Hearing Aid Company. For various personal reasons John McFee left the group for a few months, returning to it with his brother on bass. After a short time he was replaced by Clover's current bass player Johnny Ciambotti and changed the name to Clover.
On July 4, 1976, the group celebrated its ninth birthday - they're the oldest San Francisco band, apart from Dead and they've had multiple line-up changes.

The line-up of Clover has been constant for more than five years: John McFee, lead and pedal steel guitars; Sean Hopper, keyboards; Alex Call, Vocals and guitar, Hughie Louis, harp and vocals; Michael Shine, drums and John Ciambotti, bass. They're a wildly varied bunch. Johnny, a volatile rough diamond, gravel voiced Hughie and extrovert clown; gentle McFee, a vegetarian, is outwardly calm but rips up a storm on his pedal steel guitar, Alex is the bright composer and lead vocalist. Articulate Sean appears a neat, short haired conservative until you notice his one earring, and quiet Michael makes candles for a hobby but finds an energetic outlet for himself on the drums and percussion.
When they're not playing music together, they're into sports. They have formed their own Clover softball team which is the terror of Los Angeles recreation leagues. "Our strength is our unity," explains Sean, "there are things you gain out of sticking together all this time ... the drive and direction of knowing you are a true group."
Their range of sound is a regular American graffiti, flexibly bending to audience moods. "We draw from a really broad range of styles," says Hughie, "I think all main forms of American music - country, blues, rock and soul, reggae, bayou ... everything, and consequently it's a wide sound. But basically we break down a lot of the barriers existing in contemporary music." People are always trying to pin down their music to some label, so the guys made up the name "chicken funk".

It's because the farmyard and the discos are never far apart in Clover's repertoire. They've always had a thing about country music and they slip in a set of yippi-i-oh country and western songs and bouncy square dances whenever they get the chance. Clover have more than a thousand gigs to their credit, playing for audiences up to around 20,000. At times they've topped the bills over groups like Alice Cooper, Santana and Creedence Clearwater.
They have recently signed a longterm recording contract with Phonogram records and arrived in Britain in the late summer of 1976 to work on an album and single. Until the summer of '76, the group had a very unsuccessful recording career. Things are begining to look brighter. At their first British concert appearance at London's Roundhouse they drew very enthusiastic notices from Britain's music press - possibly the most difficult journalists in the world to please.
Photos: Adrian Boot
| | |
| --- | --- |
| © 1996-2015 Clover-Infopage.com | |