BAM - The Bay Area Music Magazine, August 1977, Issue No. 21, page 48:

California Kids Take On One-Nighters and Long Drives and Discover the World Ain't Like Marin County
By Terry Marshall
It's 8:30 a.m. on a Friday morning in July, and our boys are at a Holiday Inn in Dallas. Having wowwed the audience the night before at a "Boarding House" type of nightclub, Clover is off to Austin, a city 200 miles to the south. The distance, according to their road manager, can be covered in a five-hour drive; but Huey Louis, vocalist and harmonica player for Clover, claims the band can go 100 miles per hour in their CB-equipped station wagon.
"It's great," beams Louis, who also happens to own the Natural Foods Express Company in San Rafael. "You get yourself a back door and a front door" – a reference to other CBers – "to watch for cops and stuff, and you can go 100 miles an hour. Our handle is 'California Kid.'"
The changes that these good ol' boys from Marin have been shot through during the past year are about as drastic as the rush they experience when they step from their air-conditioned station wagon into the 100 degree Texas heat. After spending most of their ten year career on ice in places like Fairfax and San Anselmo, Clover was abducted a year ago from a gig at Hollywood's Palomino Club and spirited away to London by one of those high-powered management/production companies that usually markets rowdy English rock bands. Since then, their career has blasted out of the laid-back fern bars of Marin into the real world of rock and roll, symbolized by constant touring and recording, full-page ads in the trade papers, and hit singles in foreign capitals.
First stop for Clover after Hollywood was Amsterdam, where they backed Twiggy on the sessions for her latest album. Recalling the experience, which lasted about five days, Louis comments:
"Twiggy's not the greatest singer in the world, but she's got a lot of heart. She interprets tunes very well and she works real hard."
After that, the band went on three tours of the United Kingdom, - first with Thin Lizzy, then with Lynyrd Skynyrd, and finally with Linda Lewis – before heading into the studio to record their first album for Mercury Records. But the tour with Thin Lizzy went so well that the members of both bands became close friends; in fact, Louis will [*] live with Phil Lynott, vocalist and bass player with Thin Lizzy, when Clover returns to Britain.
"It was our first tour and Thin Lizzy was really great," notes Louis. "Jumping on a tour with them and playing 27 shows in twenty-eight days in 4,000 seat halls was really the antithesis of Marin County. It was like a crash course in rock and roll."
Clover's previous experience with rock and roll was limited to two overlooked albums, some commercials, and a film soundtrack. Formed then years ago at Tam High in Mill Valley, Clover's career followed the typical high school band formula. In the early '70's, shortly after their enormous success with Creedence Clearwater Revival, Fantasy Records signed Clover. But the two LP's the band recorded for that label won them only a cult audience and were not successful enough to lift them out of the Bay Area club circuit.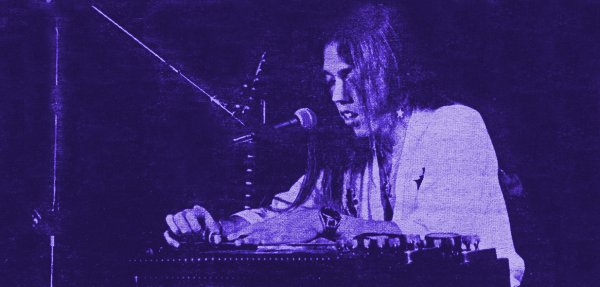 John McFee
Meanwhile, Clover's pedal-steel player, John McFee, was building a reputation as a studio musician; this eventually led to some commercial deals for the band, including C&H Sugar and Chevy trucks. Then, a few of Clover's tunes were included in Pay Day, a film in which Rip Torn played a country and western singer on the downslide. The band continued to gig around Northern California all the time, playing Muir Beach, Petaluma, and the Lion's Share frequently; but by 1975, most Bay Area music observers had pretty much given up on Clover. A booking agent in Marin saw them at the time and recalled that the music was so sloppy that it seemed as if the players were giving up hope, too.
But that all changed when members of Dr. Feelgood and their management team saw Clover playing with Roy Rogers at the Palomino. A recording contract revived the band's energy, and a year on the road provided enough discipline to make the band work. Clover received unanimous rave reviews on their new LP and their week long engagement at the Boarding House last June, something that never would have happened to them a year ago. The same booking agent in Marin now describes them as "one of the best vocal groups to come through San Francisco this year." That special talent is showcased on their new single, "Love Love," which is already, a Top Ten record in England. They hope it will take of in America, too.
Clover's music, it seems, has changed as much as their fortune. Huey Louis attributes at least part of this to their move from Marin.
"When we were in Marin County, we were in one type of environment. When we split and went to England, we saw that all of the bands were a bit more urgent, a little more aggressive," he says. "We sussed that out and said, 'right, that's what we've got to do, we can do that.' But I think in the back of our minds we still thought, that ain't really where it's at. Where it's really at is Marin County and laying back and playing blah blah blah.
"But the more we're on the road and the more we see all these places, the more we realize that the world ain't like Marin County. There's lots of kids out there. A big part of their live is those tunes that they hear, and they're the people we're writing our tunes for now. We're writing more for them. The tunes about making love to somebody else's old lady, Tequilla Sunrise, and shit like that is a bit adult for what the kids want. And after all, the kids are the fans. They're what's happening."
With that said, I wonder if the band would ever return to the Bay Area to settle down. But there was no doubt in guitarist Alex Call's mind. Call, who penned "Streets of London," the wonderful ballad on the new album about being homesick for San Francisco, explains why Clover will return to Marin:

"When you leave the Bay Area, you're in serious trouble with weather and stuff. It's hot as shit down here. It's in the upper 90's with high humidity. The station wagon's air-conditioned, but it doesn't work really. You're in the freezing air conditioning and then you walk outside into the furnace."

"But shit," he continues, imitating a drawl, "I don't mind. It's what we've all wanted for the past ten years. Until Christmas, we'll just be traveling around and working … one-nighters and long drives … but it's a gas. It's happening. We meet people and end up in strange places. It'd make a great movie if we could film it somehow."

At that point, Call ended the interview. The other members of Clover had left the hotel and were waiting down in the car. Presumably with the motor running.

Photos: Richard McCaffree


Alex Call
---
Additional comment: The single "Love Love" wasn't a Top Ten record in England, and talking about Clover's other hit singles can only be described as wishful thinking. So Terry Marshall wasn't telling his American readers what was going on in England. Let us call it his way of promoting a good band.
| | |
| --- | --- |
| © 1996-2015 Clover-Infopage.com | |