Phonogram/Mercury Publicity Information, Summer 1977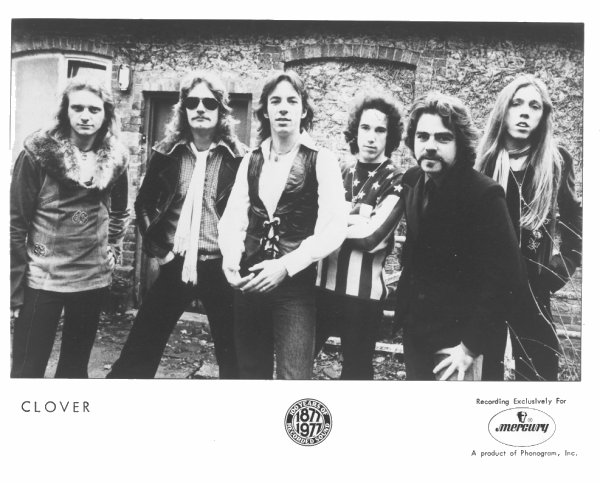 Micky Shine, Hughie Louis, Alex Call, Sean Hopper, Johnny Ciambotti, John McFee
a biography
Clover
For the last nine years, Clover has been playing either in California or England. Now that sounds more like an itinerary put together by your local vacation travel agent than the work route for a band, but work they did.
Clover is from San Francisco and was seen performing there by Dave Robinson, manager of Graham Parker and The Rumour. When the latter group was performing in the Bay area, Dave hit a few clubs and in one sat Clover, playing music Robinson recognized as "hot stuff." He promptly signed them and made sure they were signed to Phonogram Ltd. which put the group on Mercury in the U.S. "Clover," their debut album, is the result of it all.
Clover has been in existence as long as most of the current West Coast bands. The founding members, John McFee and Alex Call, started playing together as schoolboys in a band called the Tiny Hearing Aid Company. After a while the band was augmented by Johnny Ciambotti and the nucleus of Clover was formed.
Actually, years ago they were signed to a small West Coast label, recorded an album and played concerts throughout the States, but nobody could find the album to buy in record stores. Back to San Francisco and the club circuit.
McFee went on to become one of the best known and most respected pedal steel guitar player on the coast, recording with the Grateful Dead, Boz Scaggs, Steve Miller, and the Doobie Brothers. And Clover kept working.
The current lineup has been together for five years, featuring McFee on lead and pedal steel guitars, Sean Hopper on keyboards, Alex Call on vocals and guitar, Hughie Louis on harmonica and vocals, John Ciambotti on bass, and Michael Shine on drums.
"We draw from a wide range of styles," says Hughie, "I think all forms of American music --- country, blues, rock, soul, reggae, disco, bayou --- everything, and consequently it's a wide sound. We break down a lot of barriers existing in contemporary music."
Louis, who owns a health food store on the side jovially said, "when we get going man do we have a story to tell." And nine years slugging it out there could be a few stories. Clover embarks on a tour just prior to the release of the album. Don't know what chapter that is in the Clover saga but bets are on it will be the happiest segment of all. Clover is ready.
***
Management:
Dave Robinson
London, England
| | |
| --- | --- |
| © 1996-2015 Clover-Infopage.com | |