NUGGETS, Number 5, December 1976, page 4:
Catching up with Clover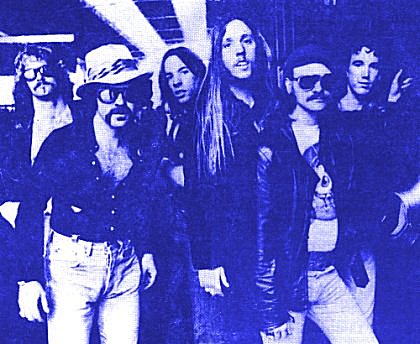 Clover: Huey Louis, Johnny Ciambotti, Alex Call, John McFee, Micky Shine, Sean Hopper

Duncan [Mc William] and I were sat in the pub one lunchtime having a pint with a few pals when one gentlemen volunteered the information that he'd been to see Linda Lewis the previous night and that the support band had been pretty nifty. 'Oh, and who was that', we rather coolly inquired. 'I think they were called Clover…..' 'CLOVER! Fucking hell!' was our astounded reaction.

Having got over the shock of missing them in Birmingham, we got in touch with our good friend Rich Vaughan who fixed up for us to go and see this legendary San Francisco outfit. Fortunately the band were supporting Thin Lizzy on a tour which included several Midland dates. After a preliminary meeting in Brum we caught the group at the Victoria Hall, Hanley (of one-way system fame) and set the cassette rolling yet again.

I've been looking through Ralph Gleason's Jefferson Airplane and the San Francisco Sound.

(Alex Call) Are we in there?

Yeah you're in there and so are the Tiny Hearing Aid Company.

Great band. I played lead guitar.

How were they born?

Oh, right out of high school into the hippie Haight Ashbury scene. Mitch, the old drummer in Clover, and I grew up together. Then we ran into McFee and Johnny Ciambotti and we were the Tiny Hearing Aid Company for about a year.

How did the Tiny Hearing Aid Company become Clover then?

Well about a month after Johnny joined we decided to change the name. The Tiny Hearing Aid Co. was a little limited you know. So we were Clover and we played our first gig on July 4, 1967.

So from laying around the San Francisco area, how long was it before the deal with Fantasy?

About a year and a half. It was the boom time. The companies were signing everybody so we got a lot of offers. We went with Fantasy because we could see them; you know they were an East Bay company – they were right there and Creedence Clearwater Revival were really successful so we thought it would be a family thing.

Stories of the concert where Creedence saw Clover are legend. The band were totally blocked and only "played" for a couple of minutes before walking off. Creedence seemed impressed by this and …

They put you in the studio with Ed Bogas.

What they had there was a warehouse and a chicken shack type thing that was their studio. They had a Scully 8-track machine and a couple of Sony hi-fi things. No mixing board or anything before – he's since gone on to become a big commercial producer in sound tracks, but he was working for Fantasy then – new to it like we were. It was pretty experimental.

What was the promotion like for the first album?

There was no promotion. But we were rising in the Bay Area concert scene – colleges, oudoor things and so on. We had no trouble getting gigs. We were on the rise until right after the second album really.

How big a time gap was there between the two albums?

A year

But they never pushed you out nationwide.

No, the funny thing was, they had Creedence who had done it themselves. John Fogerty grew up working for Fantasy as a stock boy, so he knew the inner workings of a record company – what had to be done, who had to do it, who to go and see. He did that for them so they were a big success. As a result the philosophy at Fantasy was to let the bands do it, and as we didn't know what we were about they didn't help us in any way.

So did the contract naturally run out after the second album?

Well, we were bitching about them not doing anything, and they were bitching about us bitching … so they just exercised their option.

How did you all feel about that?

We thought we'd go out and get another record deal, but the scene in San Francisco was starting to close down. We kept getting offers. The whole time we've been in existence there's always been a record company taking us to the studio for demos, but it always failed to come through.

That's over the last five years more or less, and in that time you've been playing the Palamino and places like that.

Yeah, we've been playing the good clubs – and some of the bad clubs too haha.

But you've had to have day jobs.

Yeah, well gradually people decided that they wanted more money. When we started we were a real hippie band all living in the same house and existing on nothing – that was our lifestyle. But when people started acquiring things they got jobs.

When did Hughie and Sean arrive?

In the period after we'd been dropped by Fantasy we were playing the clubs for a year in the same vein and these guys started jamming. We had a club called the Lion's Share in Marin County which was our home base. We played there on every Monday night, and it was a nuthouse packed with highschool kids. It was a great scene for us. We wanted to add a little more punch to the band so Hughie started jamming on harmonica. When he got finished driving his truck or whatever he was doing during the day, he'd get up on stage with all his keys hanging on his belt and just blow into the PA, and Sean was playing this upright piano with a mike stuck down it, and then he got an electric piano and we just gradually beefed it up to a bigger more potent sound. So they've been in the band 4½ - 5 years.

Around this time Mitch Howie left and after a series of drummers Michael Shine completed the six-piece line-up as it stands today.

So what was the build-up to your new contract?

Well, some of the people and bands in England had been out to see us, like Nick Lowe and the Brinsleys, and we ran into Peter Thomas from Chilli Willi – he's now playing with John Stewart in the States. He came and jammed and told some people, and Nick and the Feelgoods came and Jake Riviera and that's how we got signed.

What was his plan?

To bring us here to tour and record. We're going to record right after the tour (about now).

Who's producing, because last time we spoke you thought it'd be Nick but we saw Mutt (Robert Lange) and he seemed to be doing the job now.

That's right – it's been changed.

When did you do the single?

The single was the third day here. Phonogram wanted us to demo everything we had so we went in and did our 18 songs in 3 days. The single came out of that and Nick produced.

From those 18 songs Clover were playing a set of about 8 on the Lizzy tour, most well uptempo to keep the Lizzy fans happy. They were opening with a couple of tunes called 'Show Me Your Love' (the flip of the single) and 'Love Love' on which McFee played steel. He then switched to guitar for the rest of the set except 'Chicken Funk' the new single which also features a demonstration from Sean and Hughie of how to get down to the Chicken Funk dance. The other numbers included an accapella 'Working on the Chain Gang', a funky 'Wish Ya Would' and a straight-forward blues. Most of this is material they've had together for about a year. The nucleus of the album will come from this material though Alex says that they've got some new stuff together too. It's been a long wait for a new Clover album but it looks as if it's going to be well worth it.

Why do you think you stayed together so long when you didn't have a contract? In the list in Gleason's book you're about the only ones left.

Us and the Sons (of Champlin) and the Dead are still going. The basic reason is we'd always be having approaches from the record companies and we had a healthy gig scene so we believed something would materialize.

And you think this time it'll work?

Well, I think England's got such a healthy rock scene, much more healthy than the States where you just have 17000 seaters and little clubs. Here there's a lot of venues and it's really competitive. I think you can compare it to football here where you've got different divisions and you can really see where you are – it gives you a chance to compete. In the States it's much harder.

Though Clover will obviously be promoting their work in the US next year hoping to hit the bigger market there, they will not be deserting England at all. Alex said that though it was a wrench to leave, they jumped at the chance and now consider themselves an English band – 'we just talk funny' – tied here by the fact that they have an English management. They are very happy with the deal which his not just the typical LA "one-off". As in California they 've already got involved in some session work which is rather hush-hush due to the work permit situation.

The other place that their work can be heard is on a soundtrack album. Alex Call again.

We did a lot of music for a film called "Payday". It's a great flick, a kind of country and western "Stardust". (Dave Johnson saw it, curiously enough, in Hanley, and remembers it as being an interesting portrayal of the seamier side of C&W life, with Rip Torn as an ageing singer caught up in a web of violence and sex. Nice.)

How much Clover music is on that?

Quite a bit. The opening scene ist at a gig, then they got back to the motel and there's Rip Torn sitting on the can taking a shit and reading Country Variety, and he's got the radio there blaring out 'Monopoly' from the first album. There's some otherwise unrecorded stuff on the soundtrack that Ed Bogas did for Fantasy and he's since done "One Flew Over The Cuckoo's Nest" – he used to use us a lot for commercial work.

At this point the tape got drowned out by the shrieks of delight as Thin Lizzy hit the stage. Johnny Ciambotti came in and was pleased to discover that his pre-Clover band The Outfit were in Ralph Gleason's list. This set the band off on an amazing series of recollections about obscure S.F. bands of the sixties. If anyone can get Clover together in one place with an unlimited amount of tape then it would be possible to record the entire musical history of San Francisco I should think.

For the moment however, there are a few things to watch out for – their first two albums 'Clover' and 'Forty Niner' can be found in the right places, and I imagine the 'Payday' soundtrack must be lurking somewhere. Snap them up – in the unlikely event of you not being knocked out by them there's probably a fat profit to be made re-selling them.

'Chicken Funk' b/w 'Show Me Your Love' in a picture sleeve is available on Vertigo 6059157 and I doubt whether either will be on the album which is scheduled for February release. The band will be playing in London around Christmas and then touring again next year. Who knows, their tenth anniversary could see them with a hit album on both sides of the Atlantic. Their potential is enormous. In McFee they have a steel player, fiddle player and astonishing lead guitarist all rolled into one. Mike Shine, as John said, is 'incredible, a real musician, he reads, writes, arranges, and plays vibes and percussion too'. Sean, if the single is anything to go on, is much further up in the mix than on stage and quite rightly so. Johnny who is being moulded into the band's mystery figure in shades, pins down the rhythm and with Alex on guitar and Hughie on harp fronts the band on stage. Alex and Hughie handle lead vocals and their clarity of voice is one of the band's real strengths, with first class harmonies to support them.

This group has spent too long in small clubs, gardening for the Doobie Bros., playing on TV commercials and similar fourth division activities. They're going to have a rapid promotion shortly which is completely justified. So get in there and support them from the start.

Dave Seal
---
NUGGETS, Number 5, December 1976, page 31:
AFTER HOURS
...
The interviews with Graham Parker and Clover, both of whom will conquer the world in 1977, were extremely enjoyable (as were their performances, of course). Communicative and friendly, down-to-earth folk do still exist in the rock business if you bother to find them.
...
To return to Clover. Since the interview we were lucky enough to hear one of the demo tapes they did for Phonogram and it does nothing other than to confirm my opinion that their album next year will be a killer. There are five tracks on this tape and they include the single 'Chicken Funk' and the flip 'Show Me Your Love'. However, the other three tracks definately have the edge. Of the three the ballad and the boogie 'Bad is Bad' are fine, but 'Child of the Street' featuring Alex Call's crystal vocals and some beautiful McFee fills is the one that takes the biscuit.
...
Dave
| | |
| --- | --- |
| © 1996-2015 Clover-Infopage.com | |