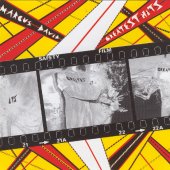 Greatest Hits
Marcus David
(Line Records 1980)
Keep On Running -- Fortune Teller -- You Better Run -- Catch Us If You Can -- Call Me Honey -- Too Much To Dream

Musicians: Marcus David, Barry Flast, Bobby Flurrie, Jimmie Ralston, Doug Kilmer, Keith Knudsen, Roger Troy, Chara, Kevin Wells, Karen Brooks, Craig Anderton, Mike Kerby, Bobby Vega, Gordon Elliott, Sean Hopper, Tom Johnston, Pete Sears, John McFee, Johnny Ciambotti, Dewey Bunnell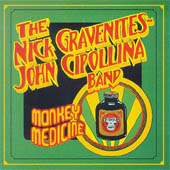 Monkey Medicine
Nick Gravenites/
John Cipollina Band
(Line Records 1980)
Blues in the Bottle -- Six Weeks in Reno -- I'll Pull the Trigger -- Trust Me -- Buried Alive in the Blues -- Born in Chicago* -- Bad Luck Baby -- Signs of Life -- Pride of Man -- Hot Rods and Cool Women -- Small Walk-In Box*

Musicians: Marcus David (drums), John Cipollina (guitar), Nick Gravenites (guitars/vocals), Al Staehly (bass/vocals)

* Bonus tracks only available on CD release by Legend Music.

Marcus played many shows with this band and some were recorded - get an overview here or listen to one of the shows here. Marcus was later replaced by Greg Elmore.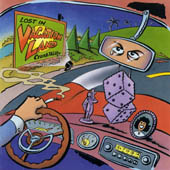 Lost In Vacation Land
Crash Willy
(Monsterdisc 1993)
John Doe -- Big Rain -- Mara -- San Jose -- Jungle In My Backyard -- Mr. Perfect -- Vacation Land -- House Full Of Closets -- Prisoner Of Te Lawn -- Nine Questions (Blowin In The Wind)

Musicians: Marcus David (drums), Chris Wiley (guitar/lead vocals), Carl Pedigo (lead guitar/backround vocals/keyboards), Tim Logan (bass); Dale Maris (bass), Buddha Slim (accordion)

Sleeve Concept & Design: Michael Coakes & Marcus David

Colouring: Marcus David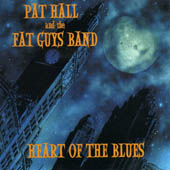 Heart Of The Blues
Pat Hall and the Fat Guys Band
(2000)
Chicken Shack -- Heart Of The Blues -- I Got My Mojo Workin' -- Mercury Blues -- Big Fat Waitress -- Has My Car Been Towed? -- Apolitical Blues -- Bad, Bad Feelin'

Musicians: Marcus David (drums), Pat Hall (keyboards/lead vocals), Greg McDaniel (bass/vocals), Steve Doyle (guitar/vocals)

Cover Concept: Marcus David

Produced by Marcus David